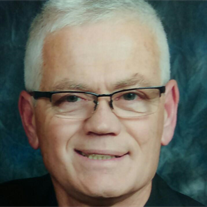 Dennis Rae Langland, 66, of Monroe, MI, went home to be with the Lord, on Friday, August 4, 2017, in his home, while surrounded by his loving family.

He was born February 17, 1951 in Menomonie, WI to Norman G. and Alice M. (Barnes) Langland. Sadly, they preceded him in death.

Dennis was a 1969 graduate of Monroe High School, and on July 31, 1976 he married Lynette K. Ritter in Flat Rock.

He retired in 2014 from Leckler's Inc., after working there about 12 years. Before that he worked at J and R Farm Tractor for almost 30 years. He was a longtime member of Christ Lutheran Church, where he had served on the church council, and sang in the choir.

Dennis was a member of the Downriver Antique Auto Club, involved with 4H as a Tractor Safety instructor, a member of the Little Elk Creek 4H Club in Wisconsin, and served as a board member of Samaritas (Lutheran Home Society).

He leaves to cherish the memories, his wife, Lynette; children, Amie Langland of Indianapolis and Brad (Jamie) Langland of Monroe; 2 grandchildren, Ainsley and Barret; and siblings, Jerry Langland of Amery, Wisconsin, Ruth (Edsel) Powell of Drummond Island, MI, and Lois (Rob) Manigold of Old Mission, MI; sister-in-law, Cindy Langland of Menomonie, WI; his mother-in-law, Irene Ritter of Flat Rock; and brother-in-law, Kerry (Lori) Ritter of Britton; as well as several nieces and nephews.

As well as his parents, he was also preceded in death by his siblings, Allen N. Langland, Norma Stoeklen, James O. Langland, and Paul A. Langland, his father-in-law, Harold Ritter, and second parents, Delbert (Gladys) Peters, with whom he made his home when he moved to Monroe.

Friends are invited to call at the Bacarella Funeral Home on Sunday, August 6, from 1-8 PM. Funeral services to honor his life will be held at 4 PM, Monday, at Christ Lutheran Church. He will lie in state there from 3-4 PM. Rev. David Hively, pastor of Christ Lutheran Church, will officiate.

In lieu of flowers, anyone wishing to give a memorial gift in his name, Christ Lutheran Church, the Leukemia and Lymphoma Society, or the American Diabetes Association are suggested.