Private Marvin Rouhier - Recon Company - Killed In Action - 18 August 1944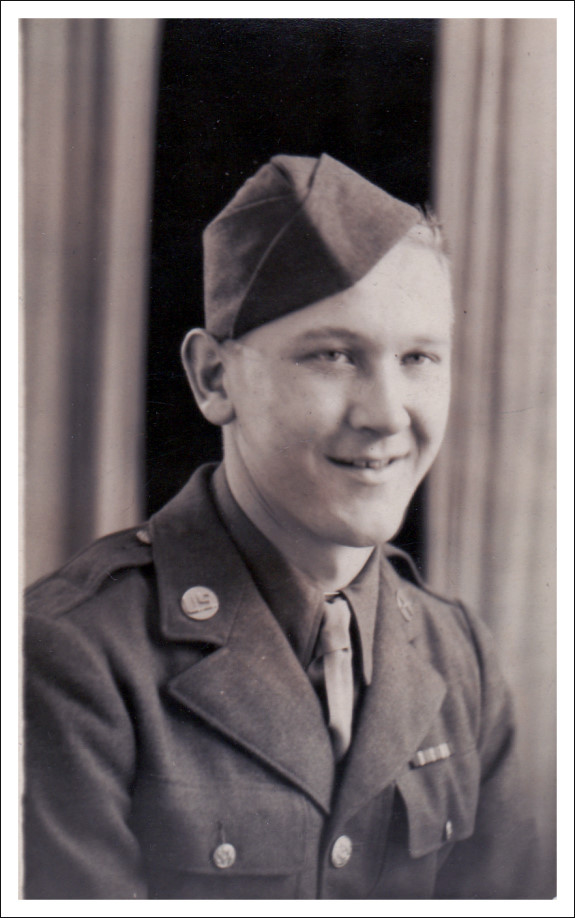 Private Marvin Rouhier was born at his family home in Ohio in 1924. He was the fourth of six children.
He graduated from high school in 1942.
Private Rouhier enlisted in the Army on 20 Mar 1943 and attended Basic Training at Camp Robinswon, AR with 3rd Platoon, C Company, 56th Battalion, 12th Army National Guard Regiment. Following Basic Training, Private Rouhier was processed through two replacement depots prior to being assigned to Recon Company of the 818th Tank Destroyer Battalion.
In May 1944, the 818 TD BN was moved from Northern Ireland to England. On 14 July 1944 the Battalion landed at Utah Beach and was subsequently attached to the 5th Infantry Division of Third Army.
Private Rouhier participated in the capture of Cherbourg and the Normandy Breakout. The Battalion continued south through St. Lo to Angers where they turned northeast towards Chartres.
On 18 August 1944 near Allenes, France Marvin and another Recon Company soldier, Private Lyman Andrews, were at at forward listening post protecting the right flank of the 818th. As the Battalion advanced on Chartres they were approached by a column of German armor. It is believed (from accounts given by members of the 818th and the Silver Star narrative) that the radio was configured incorrectly and their position given away to the Germans when they tried to use it. Marvin was hit early in the exchange of fire and elected to remain, destroy the radio and provide covering fire so Pvt Andrews could escape and report this critical information to the Battalion. Marvin was mortally wounded in the fight and died later from his wounds after being found by French Partisans.
Marvin was initially buried in the St. Corneille - Le Mans Cemetery, France. In 1948 Marvin's remains were returned home to Ohio. His family never knew of Marvin's heroic actions.
The details surrounding his death had fallen through the war time cracks. Then, in 2010 his name along with the issuing headquarters and General Order Number was found on an internet listing of recipients of the Silver Star.
The presentation of the Silver Star (posthumous) by members of Third Army to the surviving siblings of Private Marvin L. Rouhier took place 18 August 2012 at the high school from which he graduated in Ohio, sixty-eight years on the date after the action in which he earned it took place.