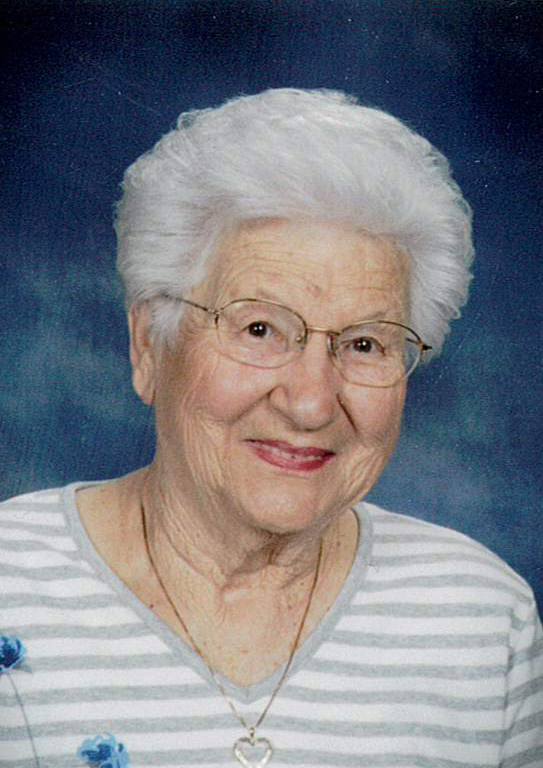 April 16, 1927 - December 25, 2017
Irene Ritter. Age 90 recently of Flat Rock
Irene (Csokasy) Ritter, born April 16, 1927, joined her heavenly Father December 25, 2017, from Henry Ford Wyandotte Hospital, surrounded by family and friends.
Irene was born to Frank and Lidia (Sary) Csokasy (Daroci). She was one of 6 siblings. She graduated from Trenton High School in 1945. Irene married the love of her life, Harold Edgar Ritter in 1948. They enjoyed wonderful times together. Harold passed on June 12, 1996.
During her lifetime Irene was employed by Michigan Foundation, Mobil Oil Company, Ford Motor Company and White's Automotive.
Irene was a very faith based woman being a life-long member of Faith Lutheran Church of Flat Rock. Irene and Harold were married at and raised their children at Faith. She was very active in the church, being the treasurer of the WELCA group and was once WELCA Woman of the Year. Her pecan tassies were always in demand at church.
She was a school board member at Hand School in Brownstown and a Girl Scout leader. She was a member of the Downriver Antique Car Club, Brownstown Seniors, The Pleasure Seekers, and The 45ers.
Irene loved life to the fullest, sharing her contagious smile and her talents with family and friends. She loved being with family, gardening, cooking, baking, canning, playing bingo, cards, bunco, going to the casinos, traveling, and watching her favorite shows (Jeopardy and Wheel of Fortune), and sports (Tigers, Lions, U of M and MSU football).
Irene is survived by her children, Lynette Langland of Monroe and Kerry (Lori) Ritter of Britton. Her grandchildren are Amie Langland of Indianapolis, Brad (Jamie) Langland of Monroe, Brian Ritter of Royal Oak, Kevin (Jess) Ritter of Denver, and Michelle Ritter of Chicago. She has 4 great grandchildren. She is aunt to a number of nieces and nephews. Irene is also survived by her 97 year old sister, Helen Horvath, who lived next to her for 65 years and a brother in law and sister in law, Charles and Marjorie (Ritter) Reynolds. She cherished and loved her companion, Robert Shrader, for the last 18 years.
Siblings who preceded her in death are Frank Csokasy, Arthur Csokasy, Louis Csokasy, and Elizabeth (Csokasy) Simko. Also preceding her in death is a son in law, Dennis Langland.
Memorials appreciated to Faith Evangelical Lutheran Church of Flat Rock.