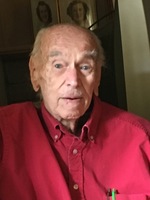 John Edward McGowan was a loved father, grandfather, citizen, friend, and neighbor.

As an only child of Theresa and Patrick McGowan, he grew up in Jamaica Plain, Massachusetts where he attended the St. Thomas Aquinas Grade School and graduated from Boston English High School in 1938.

John was an alter server, went camping with friends, participated in a drum and bugle corps, was pitcher for his high school baseball team, and sang with several groups. His work experience began with delivering groceries from the Monument Meat Market, sorted wool at a wool house in Boston, and met Bob Hope while working at the Wang Theater as an usher.

John joined the Army in 1944 to serve his country during World War II European Conflict as a member of the 818th tank destroyer battalion (Company B). After the war, John returned home and went back to work as a salesman until he was in his mid-seventies. He always said to stay busy! Even then, he shifted his energy to service activities associated with the Medfield Lions Club, was an Usher at St. Edward's Parish in Medfield, and was a member of the American Legion Beckwith Post 110 and Knights of Columbus in Medfield and the Veterans of Foreign Wars Post 2902 in West Roxbury.

In 1957, John married Joan Sullivan, from Newton, MA. They lived in Waltham until 1964 when they purchased their first home in Medfield. John and Joan spent their weekends either at the beach on Cape Cod, or skiing in North Conway. By 1967, John and Joan were joined by John Edward McGowan, Jr., and Susan Marie McGowan. Mrs. McGowan died in 1988.

He is survived by his son, John McGowan, Jr., grandson John Francis McGowan, granddaughter Theresa McGowan, of Providence, RI; daughter, Susan [McGowan] Burrill, grandsons Thomas Patrick and Michael Joseph, of Arlington, VA.

A Mass of Christian Burial will be held on Tues., May 2nd at 10am at St. Edward the Confessor, 133 Spring St., Medfield with burial following at St. Joseph's Cemetery, 990 LaGrange St., W. Roxbury. Visiting hours are Mon., May 1st from 4pm to 8pm at Roberts-Mitchell Funeral Home, 15 Miller St., Medfield.

Family and Friends are invited to a gathering at the American Legion, Beckwith Post 110, Peter Kristof Way, Medfield at the conclusion of the burial service.