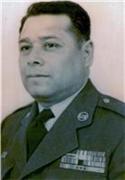 Crispin C. Rosales entered into eternal rest on Sunday, February 8, 2014 at Valley Baptist Medical Center in Harlingen, Texas.

Mr. Rosales was 92 years of age and lived in San Benito his entire life. He joined the United States Army in 1940 at the Recruiting Station in Fort Brown Texas. His courage and bravery set an example for the rest of his six brothers to follow. He was promoted to a Sergeant and was a Gun Commander, and assigned to the 818 Tank Destroyer Battalion (Recon Co.) in Fort Sam Houston, Texas. He received a Marksman Badge in his military qualification with his rifle. His foreign service served was in Northern France, Rhineland, Ardennes, Central Europe, and Normandy. Other medals, decorations, badges, commendations, citations, and campaign ribbons awarded or authorized: EAWE Campaign Medal with five Bronze Stars, Bronze Star Medal GO 31 Hq 26th Inf Div (2Feb45), American Defense Service Medal, Silver Star Medal GO 94 Hq 26th Inf Div (1May45), and a Good Conduct Medal.

In 1946, he enlisted in the United States Air Force and Kelly Field Texas. His grade was a Corporal and was a Radio Operator. His military qualification was Carbine (SS) and was awarded a Good Conduct Medal and a World War II Victory Medal. He served over two years of service in Panama.

In 1952, he reenlisted in the United States Air Force in Manchester, New Hampshire at the rank of Airman Second Class and a Radio Operator. He continued his service in the United States Air Force until his retirement. He retired over 20 years of military service in 1961 as a Technical Sergeant with the rank of TSGT E-6 (P). He was assigned at Andrews Air Force Base, Washington 25, D.C. upon his retirement.

Other foreign service served were 2 years in Okinawa and two years in Korea. Other medals, decorations, badges, commendations, citations, and campaign ribbons awarded or authorized: Good Conduct Medal W/5 Br OLC, AFLSA, W/2 Br OLC, SO B-65/1962 AACS Gp (29Jun55-28Jun58), United Nations Service Medal, Korean Service Medal, Good Conduct Clasp W/1 Loop, and a Good Conduct Clasp W/2 Loops. Mr. Rosales was also a member of The George W. Bush Presidential Center, the American Legion of Los Fresnos, Texas, a life member of Veterans of Foreign Wars, F &AM of Okinawa Lodge No 118 of the Philippines.

He read the newspaper every day, had a great interest in politics, state and federal, and never missed voting in every election. He was a very caring person who participated on various charities, such as Air Force Enlisted, Men's Widows and Dependents Home Foundation, a certificate as an Honorary Educator from Lakota Boys and Girls of St. Joseph Indian School, Sacred Heart Monastery, Santurario Nacional de San Judas Misioneros Claretianos, and Oblate Missions, as well as other charities which were unable to account for.

Mr. Rosales was preceded in death by his parents, Crispin Sr. and Juanita; brothers: Erasmo (US Marines), Abel (US Marines), and Pepe.  He is survived by his two sisters, Margarita (Arturo+) and Maria (Gilbert); four brothers: Israel (Consuelo)- US Marines, Mauro (Lucy)- retired US Army/ US Air Force, Guillermo (Minerva)- US Army/Retired CBP, and Jose- US Army. Mr. Rosales had numerous nephews and nieces that also joined the Armed Forces and some retired. They will all dearly miss him for the nice caring person that he was, especially little Matthew Christopher Castro. He always looked forward to visiting his uncle because he always greeted him with candy or ice cream.
A special thanks to Mike for the wonderful care he gave to Mr. Rosales during his illness.

Visitation will be held on Thursday, February 13, 2014 from 2 pm to 9 pm, with a prayer service at 7 pm, at Thomae-Garza Funeral Home in San Benito.

Funeral service will be held at 10 am on Friday, February 14, 2014 at Iglesia Cristiana Emmanuel, 335 Corral St in San Benito, Texas with Pastor Feliberto Pereira to officiate the service. Committal service will follow at Ashland Memorial Cemetery in Harlingen, Texas with full military honors to be conducted at graveside.

Serving as pallbearers are: Crispin A. Cerecedo, Jeremy Mendez, Guillermo Rosales, Jr., John Rosales, Arnold Segura, and Raul Rosales.