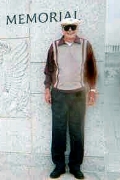 Dear Veterans, Families, and Friends of the 818th Tank Destroyer Battalion – It is with great sadness that I must report the loss of another one of our 818th Veterans. Our very dear friend, Wally Wilken, of A Company passed away 8 April 2013.
Those of us who were fortunate enough to have known Wally will always remember his sparkling eyes and ever present smile. Our condolences go out to his beautiful wife of 67 years, Beverly, and his two lovely daughters, Eileen and Wendy, and the rest of his family. Wally will be very much missed by all who knew him.
In accordance with pre-arranged plans with the Neptune Society, Wally's ashes were scattered at sea.
With Love to all - Robert